Grand Avenue Intervention:
Submission Gallery
Look to Great Parks Outside of the U.S.
Submitted by Diana Robleto, Vienna
Yes, there are great parks in the U.S., for example, Central Park in New York City and the new Millennium Park in Chicago, but you needn't stop there for examples of successful parks that are gorgeous and pleasant to spend a whole day in, imagine in with thousands of other people. I'm thinking of the Luxembourg Gardens in Paris (pictured below), Plaza Hidalgo in Mexico City and Hyde Park in London.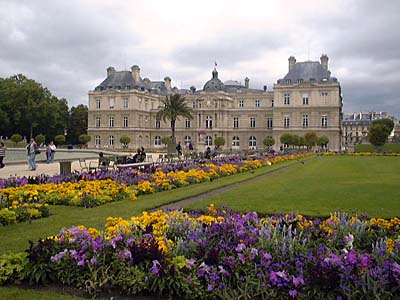 Apart from that, here's a list of my free-flowing ideas.
1. I'll start with what I think the city needs more of in general, green! Downtown L.A. is starving for plants and trees and this could be the Central Park of the city. The park should offer lots of grassland areas, meadows for picnics, flower beds, ponds and fountains. It should consider offering flowers and plants that are indigenous to California (poppies, cactus). Apart from being beautiful, they are low maintenance and require little water. Big beautiful trees (like oaks) that offer shades of relief from the hot summers would also be ideal. And what about community gardens maybe taken care of by senior citizens that live in Downtown?
2. Food kiosks, ice-cream and newspaper stands and open-air coffee shops, and maybe even an area for a weekend farmers market.
3. Play area for kids with plenty of slides, huge sand boxes and wooden climbing structures so as to prevent arguments.
4. An Olympic-sized open air swimming pool, basketball courts and tennis courts, sand volleyball, a chess and a bocce playing area.
5. I like the idea of moveable amenities like benches and chairs because they encourage interaction and flexibility.
6. Good management. If this park is going to be successful it will need to be managed properly, continuously.
7. There should be enough trash cans available throughout the park and they should be dumped out regularly.
8. A dog park!!