Grand Avenue Intervention:
Submission Gallery
Chicago's Millennium Park
Submitted by Olivia Littles, Chicago
As a L.A. County native transplanted to Chicago I hope that you will look to Chicago's Millennium Park as a perfect example of both a public space and a destination space that attracts visitors.
Since it opened last summer the city has embraced Millennium Park. Workers eat their lunches on the grass of the Great Lawn, parents take their children to play in the wonderful Crown Fountain, and out-of-towners enjoy dinner in the cafe and stroll through the temporary art exhibits. All summer long I have enjoyed picnic dinners on the grass lawn of the Jay Pritzker Pavilion, listening to concerts as the sun set and the lights of the skyscrapers slowly came on. Like the rest of Chicago, I waited expectantly over the past few months for our beloved "Bean," the Cloud Gate (pictured below) to reopen for viewing so that I could look at it, touch it, wander underneath it and show it off to my guests.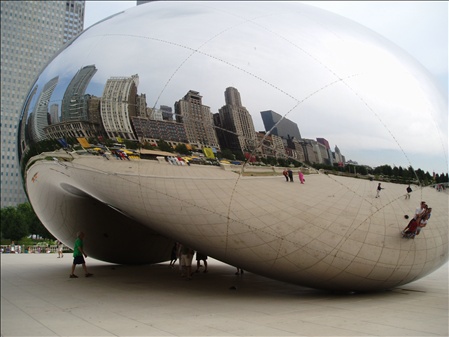 The entire park practically compels people of all ages and walks of life to stroll through and enjoy it.  The Crown Fountain and the "Bean" are not merely art installations ? they are magnets that draw people together and force them to interact both with the sculptures and with each other. In a short time it has be come a wonderful gathering place in the center of the city.
I grew up in Torrance and spent a lot of time wandering around downtown L.A. exploring Chinatown, Olvera Street, the Japanese American National Museum, the library, Grand Central Market, and the great old buildings, theaters and murals downtown. During the past few years I have eagerly watched the construction and completion of the new Cathedral and the beautiful Disney Concert Hall. When I visit my parents and help host visitors who insist that L.A. has no culture or history, the first place I take them is downtown.
I love downtown L.A. and I hope that the Grand Avenue Committee will work to create a wonderful, open, democratic gathering place that the city so desperately lacks ? a place that has a little something for everyone regardless of ethnicity or income, and welcomes people from other parts of the city to come enjoy it (even if they can't afford an expensive loft nearby). Chicago has met this need in an amazing way, and I hope the L.A. will be able to do the same.